Custom Design Transformer
We offer a comprehensive range of standard inductive components, but this is only the surface of how we are able to help as 85% of our total turnover is custom designed.



Special Design - Custom Made Design -





Development and production by assignment.



- Then don't hesitate to contact

NORDTEK DANMARK

! -


There can be many reasons why a "Standard Component" is not the ideal solution, - but then it is of benefit to know that Nordtek will work closely together with the design engineer in order to obtain the right solution.



- Together we will find the best solution ! -



Simpel requests of variants of output voltages, pins placements, self-induction, etc, can often be immediately complied with.
But we will professionally work a long side with the design engineer in the complete stages of development of completely new designs or components. This can include everything from production of new tools for die casting of plastics, special approvals, new winding technologies etc....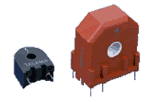 Subjects which can have some influence on the preferred choice of design:



Volume
If the product is going to be used in high volume there are even more reasons why we should work together from the beginning. Certainly this can have advantages which gives the product the right design and lowest price without compromising on quality.



Low price


As it is now the production takes place where it is economical most profitable such as in India, Czech and China.
And even though standard variants normally is the cheapest at small quantities, then at larger quantities there will often be a saving if the design is customed specifically for the actual electrical and mechanical requirements.



Mechanical size


We can offer quite a large number of different designs which normally can fulfil the wanted requests or demands - but if it is required we can as an example adjust or make new plastic tools for encapsulations, bobbins etc.



Magnetic strayfield / screening


Equipment such as Professional and High End Audio equipment and Quality Telecom products makes demand on low magnetic strayfields and a good screening.
We have the materials and we do know how to us those in a optimum way.



Frequency range


Low Frequency Audio and High Frequency Switch-Mode makes quite a different demand to materials and winding techniques.
We have the Know How - and of course it will be used in the best way when new products are designed.



Temperature


From Icy Cold to approximately 150°C heat, we are able to help.



No load losses


Low losses at no-load is brougth into focus more and more. As required it is possible to choose between different qualities of cores and flux-density levels which both can influence as well no-load as full-load losses considerably.



Approvals


Often we can offer that even custom made transformers will be covered by approvals from such as UL, CSA, KEMA etc., but if needed we will assist willingly in the implementation of new approvals.



Special Applications


Medical use, Safety transformers, Auto transformers, transformers for High End Audio applications etc..
- We have the expertise and we are willing to make it available to you. -



Quality


By using the highest grades of materials available is a testament to our quality. With state of the art ISO certified manufacturing facilities which produce our products, the engineer, or buying department can be assured in the knowledge that our production personnel are proud of the quality of the component they produce. In today's world, you get no second chances with quality or service. This is why Nordtek Danmark has remained one step ahead of the rest.

Everything from the first small testing series, new approvals, new tooling, special packing and to extremely high volume production are parts of our competence.

So, if you are a design engineer who is working to very tight deadlines and require our expertise to find the right solution, you have already taken the correct step by contacting us.



At

NORDTEK DANMARK

you can rely on many years of experience with product development, transformer design and approvals.

You always receive a committed and professional service.

Here

Good Service, Quality and Cooperation

are key words.


When you cooperate with

NORDTEK DANMARK

you get access to the best products, the right prices, delivery on time and the best support.




Let us show You what we can do for You! - You are always welcome!