PCB, 2x115V, 1.6-50VA, UL
High quality low profile encapsulated toroidal transformers with two 115V, 50/60Hz primary windings suitable for connection in series to 230V supply, or parallel to 115V supply. Twin secondary windings may be connected in series, parallel or used independently.




Standard Toroidal Transformer,
PC Mount, Low Profile, Primary 2x115V or 230V 50/60 Hz.
Power
VA
Part
Number
Sec-Full Load Voltage
Current mA
Open Circuit Voltage
1,6
70000
70001
70002
70003
70004
70005
2x7
2x9
2x12
2x15
2x18
2x22
114
89
67
53
44
36
2x8,9
2x11,6
2x15,4
2x19,3
2x23,4
2x28,2

3,2
70010
70011
70012
70013
70014
70015
2x7
2x9
2x12
2x15
2x18
2x22
229
178
133
107
89
73
2x10,2
2x13,0
2x17,3
2x21,4
2x25,7
2x31,3

5,0
70020
70021
70022
70023
70024
70025
2x7
2x9
2x12
2x15
2x18
2x22
357
278
208
167
139
114
2x9,7
2x12,4
2x17,0
2x21,3
2x25,5
2x30,5

7,0
70030
70031
70032
70033
70034
70035
2x7
2x9
2x12
2x15
2x18
2x22
500
389
292
233
194
159
2x9,5
2x12,2
2x16,2
2x20,3
2x24,3
2x29,7
10,0
70040
70041
70042
70043
70044
70055
2x7
2x9
2x12
2x15
2x18
2x22
714
556
417
333
278
227
2x8,3
2x10,8
2x14,4
2x18,0
2x21,7
2x26,3

15,0
70050
70051
70052
70053
70054
70055
2x7
2x9
2x12
2x15
2x18
2x22
1.071
833
625
500
417
341
2x8,9
2x11,1
2x14,8
2x18,5
2x22,2
2x27,2

25,0
70060
70061
70062
70063
70064
70065
2x7
2x9
2x12
2x15
2x18
2x22
1.785
1.377
1.041
832
694
568
2x8,3
2x10,7
2x14,3
2x17,8
2x21,4
2x26,2
35,0
70070
70071
70072
70073
70074
70075
2x7
2x9
2x12
2x15
2x18
2x22
2.500
1.944
1.458
1.167
972
795
2x8,0
2x10,6
2x14,0
2x17,6
2x20,9
2x25,7

50,0
70080
70081
70082
70083
70084
70085
2x7
2x9
2x12
2x15
2x18
2x22
3.571
2.777
2.083
1.666
1.388
1.136
2x8,1
2x10,4
2x13,9
2x17,3
2x20,8
2x25,4
Top of page
Standard Toroidal Transformer, PC Mount, Mechanical Data
Power
VA
Dimensions
L x W x H
mm
Pin Layout
XY mm
Pin Layout
Pin Size mm
Weight Total gr
Weight Cu gr
Regulation
No Load /
Full Load
%
1,6
3,2
5,0
7,0
39,6 x 39,6 x 18,5
44,7 x 44,7 x 19,5
49,7 x 49,7 x 19,5
49,7 x 49,7 x 23,1
35,56
40,64
45,72
45,72
1,0 x 0,5
82
110
144
174
20
26
33
36
33
44
47
35
10,0
15,0
25,0
55,0 x 55,0 x 26,0
60,0 x 60,0 x 26,3
60,0 x 60,0 x 37,5
50,80
55,88
55,88
1,0 x 0,5
252
304
435
45
57
85
22
24
19
35,0
50,0
72,0 x 72,0 x 37,5
82,4 x 82,4 x 37,5
66,04
76,20
1,0 x 1,0
525
685
187
209
17
16

Top of page


Primary-Secondary test voltage 4.0 KV (VDE0550).
Primaries and secondaries for parallel or series hook-up.
Ambient operating temperature 60°C maximum.
Insulation Class A (105°C)



Connections
For 230-volt operation, connect primaries in series by connecting pins 5 & 4 together and apply 230 volts across pins 6 & 3.
For 115-volt operation, connect primaries in parallel by connecting pins 6 & 4 together and pins 5 & 3 together; apply 115 volts across pins 6 & 5.
To parallel the secondaries, connect pins 14 to 12 and 13 to 11 take the output across pins 14 and 13.
To place the secondaries in series, connect pins 13 to 12 and take the output across pins 14 and 11.

Top of page


Mechanical Layout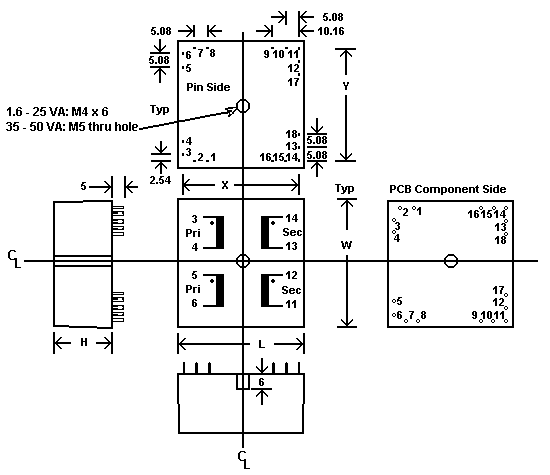 Dimensions in mm.
Electrical measurements @ 20°C ambient temperature.

Specifications subject to change. Custom models available on request.

Top of page